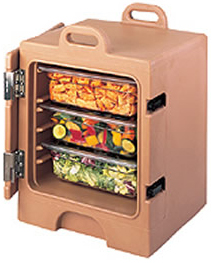 Keeps food warm for hours. Holds 3 Full-size pans.
Rugged and dependable front-loading food pan carrier.
Holds multiple pans of hot or cold food at safe temperatures for hours.
Seamless polyethylene with thick foam insulation.
Airtight removable gasket provides a secure seal.
Molded-in handles for easy carrying and handling.
Plastic latches will never rust.
Stacks easily for transporting and storing.
Rent our multiple pan, hot or cold food insulator:
Reserve this Item