Detailed instructions for kegerator rentals: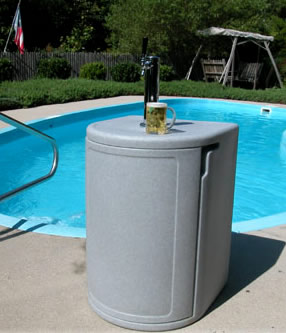 1. Connect to 120V, 60Hz 15 Amp grounded AC Outlet. DO NOT USE extension cord. Use three-prong plug with three-prong grounded wall outlet. WARNING: Unless the above grounding method is followed, you are not protected against severe or lethal shock in the event of a short circuit of an electrical component or wiring of beer dispenser.2. Ideal temperature for commercial beer is 36-38 deg F. NOTE: UNIT SHOULD BE RUN FOR APPROXIMATELY 24 HOURS PRIOR TO INSTALLING FIRST KEG.
3. The Kegerator opens from the left hand side. The door seal utilizes "slam" type latches (unlike household refrigeration units that use magnetic sela-sealing gasket). When closing the kegerator door, do not be afraid to slam it shut! Slaming is encouraged. This wil ensure the compression gasket seals properly. You can also give the left hand side of the door a little push after slamming the door shut, if you feel the door gasket has not sealed properly. IF DOOR IS NOT SHUT TIGHT, THIS WILL CAUSE LOSS OF COOLING AND CAUSE FANS TO ICE UP.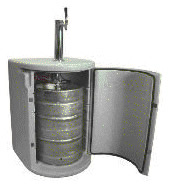 4. To tap keg, twist tap into place then pull handle out and lock down. Be sure valves are open.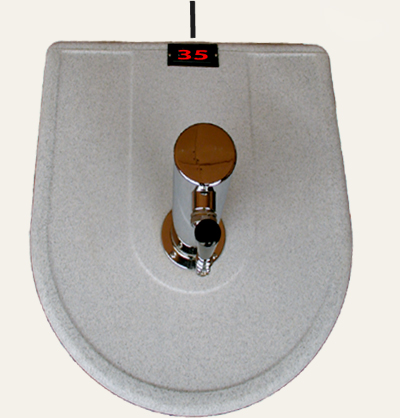 5. Do not leave the kegerator exposed to direct rain or water, as this will damage the power supply and temperature controller.
6. WARNING: To avoid personal injury and/or property damage, always secure CO2 cylinder with retainer to prevent it from falling. Should CO2 cylinder valve become accidentally damaged or broken off, CO2 cylindar can become an unguided missile.
7. Foam is almost never a result of incorrect CO2 pressure. DO NOT listen to your friends. Don't allow your friends to adjust CO2 if there is a problem. If the beer flowed fine at the set of pressure, then something else is causing the problem.
8. If you can not figure out what is causing the system to foam, call Big Ten Rentals 319-337-7368 or 800-369-7464, we have an after hours service that will page someone to help you. Again, DO NOT touch the CO2 once it is set and working.
9. WARNING: Do not put the drip tray in dishwasher. It is NOT dishwasher safe
Rent our beer kegerator:
$69/ day  Reserve this Kegerator