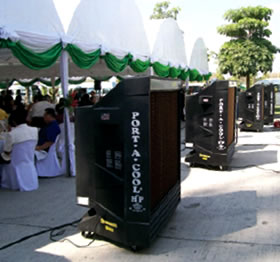 Cooling a Large Area outside?
Port-a-Cool is a Portable Evaporative Cooling Unit perfect for many events . Cooling is accomplished naturally through the process of evaporation without the use of harmful refrigerants. It's environmentally friendly and cost effective.
These units are often used at a wide range of events. From wedding receptions held in the extreme heat in Iowa. To cattle farmers trying to keep their herd of animals from overheating. Even automotive events have rented these.
Compact design allows it to pass through standard doorframes
Heavy Duty 1/2 horsepower motor
Durable one-piece molded plastic polyethylene housing
3/4″ garden hose connection supplies water
Entire unit is U.L. listed in U.S. and Canada
Operates for a fraction of the cost of A/C
Rent a Port-a-cool natural evaporative cooling fan:
$150/ day   Reserve this Item
Requires
Specifications
Related Items
Water source with standard hose
and 110 V dedicated electric circuit.
You'll also need this:
50′ hose
50′ extension cord
Air Delivery CFM 9,600
Total Amps 12.4 amp
Dimensions 67"h x 62"w x 32"d
Cooling Capacity 2,500 sq. ft.
Contact us for the sale price on our port-a-cool