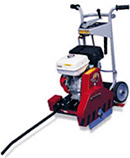 Our gas powered walk-behind concrete wet saw is sure to get the job done right and FAST for your next masonry, brick, asphalt, tile or obviously concrete project! Great for just about any out door project!
Please note that this rental does not include blade.
Info about Controlling Silica Dust.
Cost to rent our Walk-behind Concrete Wet Saw:
$49 / day  Reserve this Item