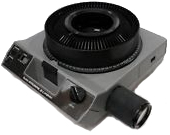 Lets be honesty, Slide Projectors are a dead technology! You may need to use one from time to time, but most of the time it will sit in your closet collecting dust! So why buy it when you can rent it for a fraction of the cost.
Includes an extra bulb (just in case). Comes with a zoom lens so that you don't need to move your table and focus control on the remote. Also comes in a hard carrying case.
We also offer projection screens for rental as well.
Rent our Slide Projector:
$29/day
$49/2 day
$69/week
Reserve this Items