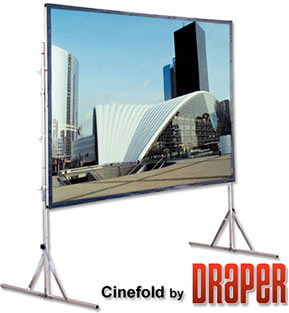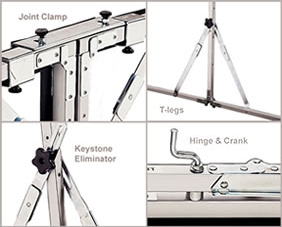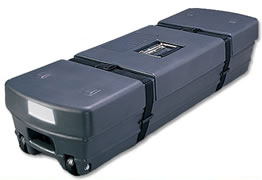 Set-up
This portable screen sets up quickly without tools, and collapses into a compact case with wheels for easy travel or storage. Trainers, presenters, producers, or anyone who takes a show on the road will love Cinefold.
The Cinefold frame and legs are built of 1″ (2.5cm) square structural aluminum tubing and are conveniently color-coded and labeled for quick assembly. Steel hardware is cadmium plated. When assembled, the bottom of the frame is normally 44″ (112cm) above the floor and adjusts in 6″ (15cm) increments. Hinges are tempered steel and lock positively.
Download the Cinefold portable projection screen installation instructions
Carrying Case
Cinefold comes complete with a tough carrying case designed for maximum service and dependability. Constructed using rotationally molded polyethylene, it includes fully integrated handles formed into each end of the case and a rubber grip handle recessed into the lid. Each case has two, 1″ W x 3″ H (2.5cm x 8cm) diameter impact resistant polyolefin wheels molded in the wheel wells. Load capacity is 200lbs (91kg). per wheel. Cases are designed to stack with the lids in place or nest compactly with lids off.
T-Legs
Constructed of sturdy 1″ (2.5cm) square hard-alloy structural aluminum tubing, clear etched and anodized for long life. Hinged inverted "T" shape, with rubber-tipped feet.
Keystone Elimination
T-legs may be adjusted to allow the Cinefold to tilt forward up to 8°. Eases viewing and helps to compensate for image distortion.
Hinges & Handy Cranks
Hinges & Handy Cranks—Hinges are manufactured of tempered steel, and lock positively into place. Handy Cranks are 5/16″ diameter crankbolts, for quick assembly without tools.
Viewing Surface
Flexible Matt White for front projection. For rear projection, Cineflex and Low-Gain Cineflex neutral grey surfaces are available. Uniflex White viewing surface is suitable for either front or rear projection, and is ideal for edge blending.
Surfaces are easily interchangeable. Sizes and formats to meet virtually any specification: custom and truss-style sizes available.
This folding portable projection screen is versatile and ruggedly constructed. Frame is color coded and sets up in just minutes without tools. Projection screen surface snaps onto frame. When assembled, bottom of frame is 44″ off of the floor and adjusts in 6″ increments.
Rent our 150″ Portable Projection Screen:
$99/ day + delivery
Item Description
Related Items
4:3 NTSC
150″ Diagonal
7'6″ x 10′ Overall Size
86″ x 116″ Viewing Size
68 Lbs