60 kW Towable Generator
Inquire about price by adding to quote
Description
This PowerPro machine is compact, yet offers unrestricted access to service components.
All engine fluids drain to the outside of the machine.
Cabinets are powder-coated, and all hardware is stainless steel to maintain a fresh look for years.
All cabinet doors lock with a key.
Off-white cabinet finish minimizes visibility impact in entertainment applications.
QUIETECH™ SOUND REDUCTION: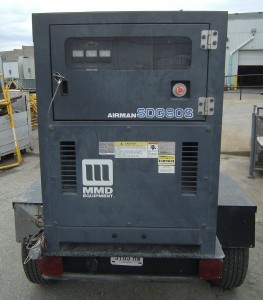 Frame and cabinet are built with high-strength materials, and all doors and movable fixtures are engineered to minimize vibration.
The cabinet is designed as an acoustical chamber optimized to reduce sound power. Cabinet interior is lined with a special vibrationabsorbent, open-cell polymer material to cancel acoustic vibrations. This oil- and soil-resistant material is bonded to the cabinet walls with a resilient adhesive that enhances its performance.
The unit's airflow has been engineered to provide proper cooling at an absolute minimum noise level.
Engine combustion chambers have been shaped to minimize or eliminate diesel clatter. Direct-injection fuel delivery is quieter and easier to maintain. Oversized muffler results in a quiet exhaust.
DELTA DEMAND EXCITATION™:
Automatically adjusts voltage output instantly when variable loads are applied to the generator.
System is composed of three interlinked elements: a solid state automatic voltage regulator (AVR) that monitors the power output of the machine; an independent power coil that supplies excitation energy; and an excitation coil that induces the generator primary coil to produce more voltage to meet demand.
Produces entertainment industry-grade power when combined with optional electronic governor.
CURBSIDE POWER CONNECTIONS: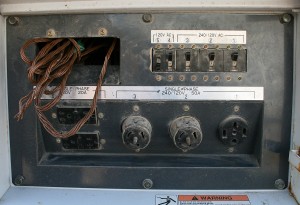 Direct connections are labeled in standard U.S. nomenclature (L1, L2, L3, N) and are guarded by a clear cover that has test meter probe access to each terminal even when the guard is closed, allowing safer setup and testing for all applications.
GFCI convenience and 50 amp twist lock connections are protected with a guard that is secured for safety during operation, yet allows easy access to connections during setup.
All power connections are curbside for convenience and safety in urban applications.
LOCKABLE CONTROL PANEL
Warning lights and analog gauges including fuel, tachometer, oil pressure, coolant temperature and charging system amps provide easy monitoring of engine operations.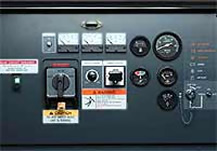 Generator output is controlled by a lockable voltage changeover switch and is monitored by analog gauges measuring volts, amps and frequency.
Current selector switch, voltage adjuster and main circuit breaker are all protected behind a lockable door.
For added safety, the Emergency Stop button is located below the door for accessibility at all times. Panel light has an on-off switch.
AUTOSTART
Airman autostart control provides an easy connection to transfer switch applications and delivers instant backup power to a building's electrical system.
Provides automatic glowplug delay and overcrank protection.
RELIABLE ENGINE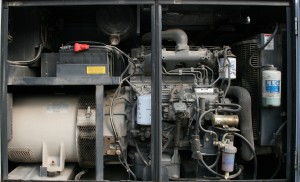 Unit features either Nissan or Isuzu diesel engines that are EPA Tier 2 compliant and meet CARB certification.
Electric Fuel Primer and Air-Bleed (EFPA) Pump automatically bleeds air from the system without opening the injector lines if the generator runs out of fuel — reducing downtime and maintenance calls.
Automatic protection from low oil pressure and high temperature conditions.
Restriction indicator eliminates guesswork about when to change the air filter.
Starting and battery charging systems are either 12 or 24 volts, depending on model.