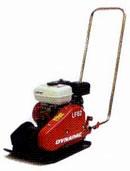 Big Ten Rentals has several types of Compaction Equipment for rental. This is our Dynapac Plate Compactor. Listed below are the specifications.
Weight: 176 lbs.
Compaction data:
– 90hz vibration frequency
– 5400 vibrations per minute
– 25 feet per minute in travel speed
Noise and Vibrations:
– pressure level to ISO 6394 = 92
– power level to ISO 3744 = 104
– hand-arm vibration to ISO 5349 = 8.7
1.9 sq. ft. in contact area
Gas tank capacity: 0.66 gallons (unleaded, at least octane of 86)
Folding handle for maneuverability and storage.
At least 2/3 of the plate needs to be on surface when near edges.
We also have a Jumping Jack compactor for rent as well.
Rent our Plate Compactor:
$69/ day  Reserve this Item or
$49/ 4 hours