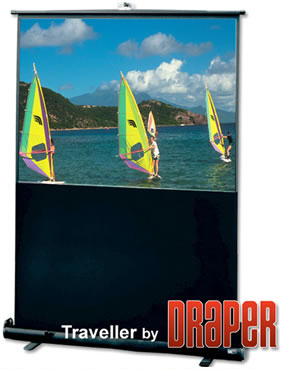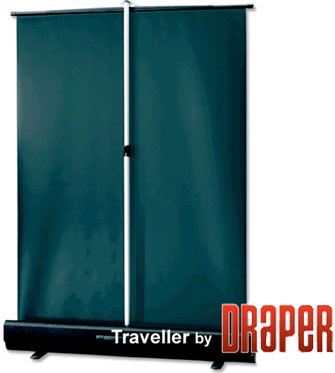 Set-up
Setting up the Traveller is simple. Just place it on the floor or table as needed. Screen height adjusts quickly and easily. An infinitely adjustable telescoping upright tensions screen in desired position. Upright stores in case.
Traveller is a durable pull-up portable screen. Components are self-contained in a sturdy extruded aluminum case.
Download our 100″ projection screen installation instructions
Shoulder Strap
Use the built-in carrying handle, or sling it over your shoulder with the detachable shoulder strap.
Viewing Surface
Matt white viewing surface is the ideal choice for today's computer- driven presentations. Compatible with resolutions up to 1200 x 1600 and beyond, with a broad viewing cone and accurate color rendition. The Traveller includes enough black "rise" below image to set units on either the floor or a table.
Rent our 100 inch projection screen:
$29/ day Reserve this Items
Item Description
Related Items
4:3 NTSC/PAL Video Format
100″ Diagonal
60″ x 80″ Image Area
31 Lbs
42″ Blackout Rise (To bottom of view area)
Max overall height 105″ (Adjustable)
3/4″ Black border Sides and top