2014 Iowa Soul Festival Sept 19- 20 in Iowa City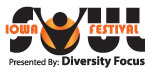 Large festivals, like this one, are often set up late at night and into the early morning. Roads are closed and streets are cleared to make way for our 14 person setup crew from Big Ten Rentals. We set up 20 frame tents, 1 stage (CBS channel 2 KGAN-TV), 1 Scaffolding event entrance, event perimeter of bike barricade fence, orange border fence, security fencing for beer garden, 4 picnic tables, +100 tables, +100 chairs, pole banners, 1 Inflatable (Bounce House/Slide) and more. We finished setup at 3:00 am.
Below are pictures of our crew at work late on setting up for the 2014 Iowa Soul Festival in Downtown Iowa City & The Daily Iowan.
See more information about the 2014 Iowa Soul Festival on Facebook.
Images during the event: